Semantic Specs
The scope of semantic specifications on this site is the the full internaitonal supply chain as outlined in the diagram.
Financial processes such as insiurances and letters of credit
Trade processes such as ordering, invoicing, and shipping notices.
Transport processes including consignments, house & master bills, and logistics movements.
Regulatory processes including declarations, certificates, and permits.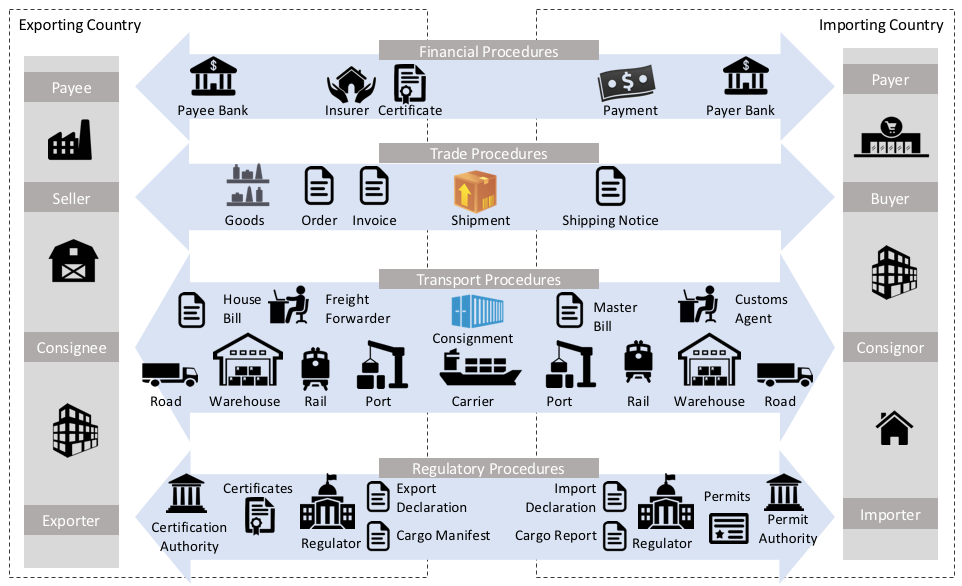 Dictionary and Codes
All domain specific specifications are constructed from the UN/CEFACT core component dictionary and code lists. These are published as browsable models and as a JSON-LD linked data model via the dictionary specification. Independent of the domain specific reference API specifications, implementers may simply make use of JSON-LD contexts in the published dictionary.
Domains & Resource APIs
Click on any of the domains to get an overview of the API specifications in the domain - or click on a resource to go straight to the specification.